Night Vision Multi Task NV MT1 WP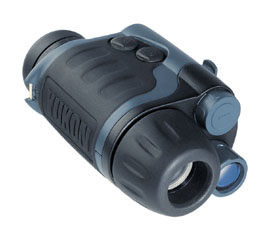 Yukon NV MT1 WP is proud to introduce the newest addition to our premium night vision line. The NV MT1 WP embraces the most modern, cutting edge technology available without forgetting practicality. A key component to the originality of the new NV MT1 WP is that it sheds the burden of a one-dimensional item and evolves into a multi-functional system allowing the scope to be used virtually anywhere. Whether you choose to take advantage of the optional waterproof version or stay with our standard variety; you will be simply amazed by the ease of use and quality of image provided by this compact unit. The NV MT1 WP is equipped with two 1/4 inch mounts thus it can be utilized for a head mount as well as a riflescope. As an option, the NV MT1 WP can also be coupled with an exclusive rifle mount/laser system elevating the NV MT1 WP right to the top of the newest generation of compact night vision riflescopes.
The NV MT's newly developed lenses have improved wavelength / contrast characteristics which help to utilize every bit of light ampflification from the night vision tube.
This unique design allows the scope to produce a clear image with quality and high resolution. The NV MT1 WP was primarily designed to produce a quality image. The unit design has also considered both comfort and ease of use.
The NV MT1 WP is equipped with comfortable sensor control buttons coupled with an ergonomically designed body and innovative lens cover. Rugged rubber armor protects the NV MT from destructive moisture and other elements.
Our Exclusive PULSTM system provides the highest level of infrared illumination without the significant power drain on the battery. The PLUSTM system allows the maximum possible output by the I.R. Illuminator doide, yet letting it rest between the impulses to protect the IR from burning out. The pulsing frequency is invisible to a human eye but it penetrates longer distances due the quick energy bursts of the IR.
Interchangeable lenses
Rifle moutable
Variety or applications
High grade NV tubes
I.R. illuminator
Waterproof *
Photo-video adapter
Compact
Lightweight
Rubber armored
Padded corduroy carrying case
* Optional waterproof version provides complete damage protection from water. Waterproof unit is 100% effective and operational under water at depths up to 3 feet for a 24-hour period.
| | |
| --- | --- |
| Characteristics | Value |
| Model # | 20040WP |
| Generation | 1 |
| Visual magnification, x | 2 |
| Vertical Resolution, lines/mm | 36 |
| Objective Lens, mm | 24 |
| Angular Field of View, Grad | 30 |
| Vieing Range, m | 200 |
| Built in I.R.Illuminator, yd./m | 100/100 |
| Tripod mount, inch | 1/4 |
| Lenght, inch/mm | 5.6 / 142 |
| Width,inch/mm | 3.2 / 82 |
| Height,inch/mm | 2.4 / 60 |
| Weight,oz/kg | 13.4 / 0.38 |